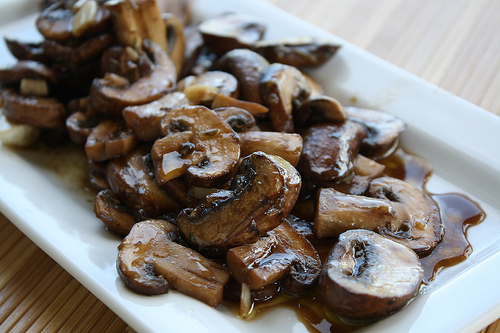 SAUTEED MUSHROOMS
Steak and Ale Copycat Recipe
Serves 4
1 pound mushrooms
4 tablespoons butter
4 tablespoons margarine
1/4 cup chopped onion
2 teaspoons beef base
1 teaspoon garlic powder
1 teaspoon black pepper
1 cup red burgundy wine
Wash mushrooms in hot water. Melt together the butter and margarine. Add beef base, onion, garlic powder, and black pepper. Simmer mushrooms in butter mixture until soft. Add red burgundy wine.
If you have never used beef base before it is sold right next to soups, stocks, and bouillon in the grocery store. Bouillon is concentrated paste that is ideal for making soups, gravies, and anytime you need a boost of flavor.
Notes: You may enjoy this as an appetizer, or you may even enjoy this alongside your steak.