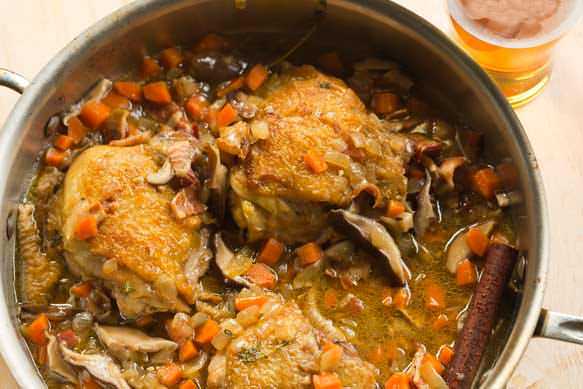 SAMUEL ADAMS WINTER LARGO BISTRO CHICKEN
Pub Restaurant Recipe
1/4 cup olive oil
2 pounds chicken thighs
salt and freshly ground black pepper
1/2 pound bacon, cut into large dice
4 large carrots, peeled and chopped
4 cloves garlic, roughly chopped
2 onions, diced
1 pound shiitake mushrooms
3 cups chicken broth, preferably homemade
12 ounces (
1 1/2 cups
) Samuel Adams Winter Lager
1 bunch fresh thyme
1 cinnamon stick
1 star anise
2 1/2 cups cooked rice or pasta, for serving
In a large enameled cast-iron casserole or similar oven- and flame-proof dish, heat the oil over medium-high heat. Season the chicken thighs with salt and pepper and, when the oil is hot, sear the chicken for about 10 minutes, turning so that the thighs brown on all sides. You may have to do this is 2 or 3 batches. Transfer the chicken to a platter.
Add the bacon, carrots, garlic and onion to the casserole and saute for about 5 minutes, stirring, until the vegetables begin to wilt and brown. Add more oil to the casserole, if needed.
Add the mushrooms, broth, beer, thyme, cinnamon stick and star anise; bring to boil and then reduce the heat to medium so that the liquid simmers. Return the chicken thighs to the casserole, cover and cook for about 1 hour. Adjust the heat to maintain a constant simmer.
Uncover the casserole, raise the heat and cook at a rapid simmer for about 20 minutes or until the sauce reduces and thickens. Discard the thyme, cinnamon stick and star anise. Serve the chicken and sauce over rice or pasta.