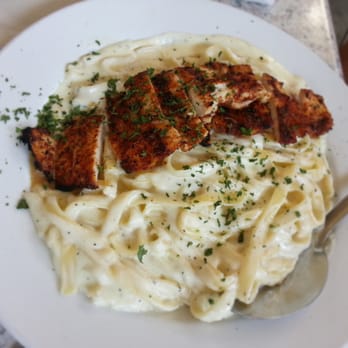 BLACKENED CHICKEN ALFREDO
Champps Americana Restaurant Copycat Recipe
3-4 boneless skinless chicken breasts
Zataran's blackening seasoning, to taste
2 tablespoons butter
16 ounces linguine
1 1/2 pints heavy cream
1/2 cup butter
3 tablespoons cream cheese
1/2 teaspoon garlic powder
1/2 cup grated parmesan cheese
salt and pepper
Sauce:
Place 1 stick of butter and cream cheese in large saucepan on medium heat, let melt. Stir in 1 pint of heavy cream. Let simmer for 5 minutes, stirring frequently. Slowly stir in the parmesan cheese, about 1/4 cup at a time. Add salt and pepper if desired. Simmer for about 20 minutes on low heat. Stirring frequently. The longer this simmer's the better. If sauce seems to be real thick then slowly stir in the rest of heavy cream.
In the meantime while the sauce is simmering cook the noodles. Drain. Set aside.
Chicken
: Preheat a cast iron skillet on medium-high heat with 2 tablespoons butter. Sprinkle both sides of chicken with Zataran's blackened seasoning. Place on to skillet and brown on both sides, turn down heat to medium. Cook on each side for about 7 to 8 minutes or until no longer pink in the middle.
Place the noodles on plate, top with sauce and place the chicken on the side. Garnish sauce with fresh grated parmesan cheese. Serve with your favorite salad and breadsticks.